I don't know what it is, but every winter between Christmas and Valentines day my shop time always seems to go to almost zero. It's like a perfect storm of  holiday gatherings, office parties, and family visits. This year I embraced the storm and decided to try and knock out several of the little shop improvement projects that always seem to get put off the rest of the year.
After my last big project, I decided it was time to finally address the issues with my carriage stop. Originally I planed to use thumb screws  to secure everything, but as I mentioned in the last video of the series, they didn't provide enough clamping force. Since I was in a hurry to press the stop into service, I used set screws and a bolt instead. While this worked fine, it meant I always had to have an Allen key and wrench close by. So, shorty after Christmas I ordered some adjustable handles and modified them to fit the stop.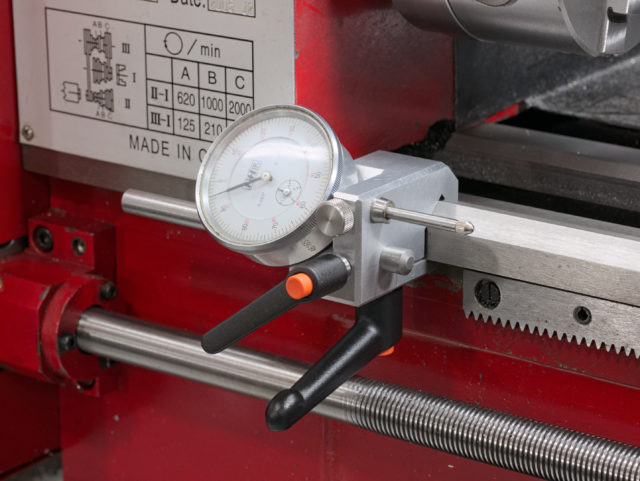 The other lathe related improvement I made was better lighting. While my shops overhead lighting is more than adequate for me, it's less than ideal for shooting video. To make shooting videos a lot easier and less annoying, I picked up two 24″ goose-neck task lamps from Moffatt. While I was at is I also picked up a new power strip, as the old one was starting to show its age. When it gets warm, I think I'm going to paint the backslash white, as that should also improve video quality.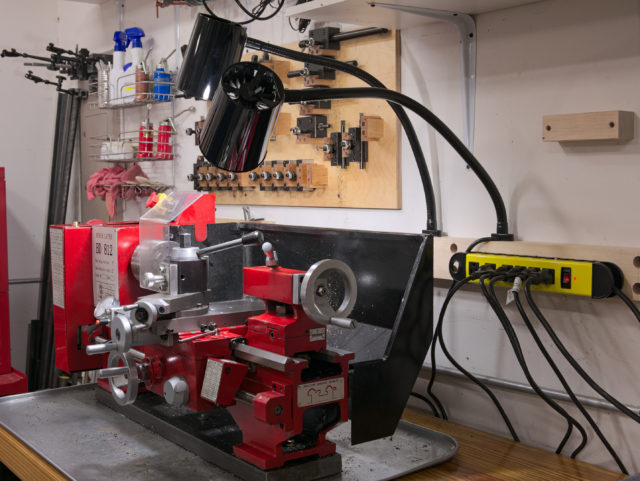 My mill came with way covers, but the cover for the front of the y-axis ripped in a little over two months. The design seemed sound, as it was just a sheet of rubber attached to the saddle by a flat plate. However, the material used was some kind of inflexible rubber that was wholly inadequate. I replaced it with some 1/16″ thick Neoprene, ans so far it's holding up really well. To hold the loose end down, I used some Neodymium magnets. As an added bonus, the magnets keep the cover from flopping onto the hand wheel, thus it will no longer be slathered with way oil.
The last little improvement pocket was to make a simple wall hanging shelf to store my grinding related paraphernalia. It's nothing fancy, just some leftover Canadian Birch  that was dadoed to accept 1/4″ Baltic Birch Plywood.