when I got my new table saw, one of the things I had to do away with was my permanent miter saw bench. I've never used my miter saw for much more than cutting stock down to rough size. However I could never do with out it, because cutting long boards to length on the table saw is not very save, because of how hard large boards are to control. Thus I decided I needed some form of miter saw bench/stand. I looked at several models, and I rejected all of them, because they were poorly built or had no out rigger legs.
Since buying a stand wasn't an option  I decided to design my own. Below is what I came up with, it's made from roughly $30 of SYP construction lumber. It consists of  a 9′ long beam that allows me to have up to 8′ of support on one side of the saw. It clamps to the saw supports so it's easy to change to adjust. Most of the time I will probably have 6′ to the left and 3′ to the right. The support arms and legs are just held to the beam with a few clamps. The "dados" for the support arms are on 12″ centers. Overall, I'm very please with how it turned out. Hopefully this will hold me over till I have the time, space and money, to build  a Norm Abram style stand with a large radial arm saw.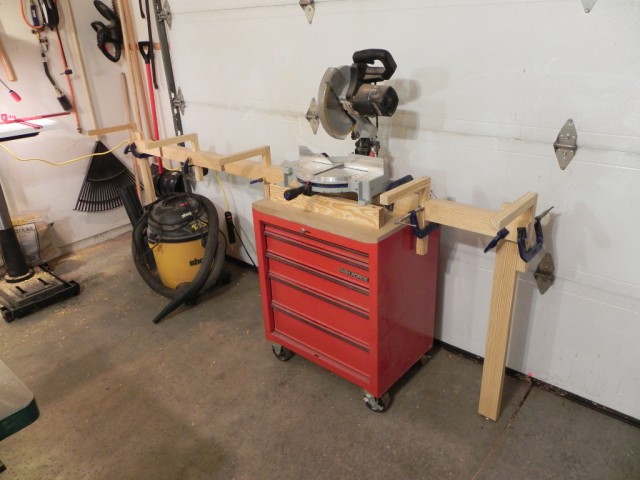 The following shots are some close ups of the various clamping points, as well as how the stand is stored while not in use.