Since my last post, a substantial change has taken place in my shop. Mid November I replaced my Delta contractors saw with a Grizzly G0690 cabinet saw. I have been wanting a cabinet saw for a while now, because I have out grown the capabilities of my old saw. The main upgrades over my old saw, are horsepower (3 vs. 1), greater depth of cut 3-1/8″ vs 2-3/8″ and a greater ripping capacity 30: vs about 22″.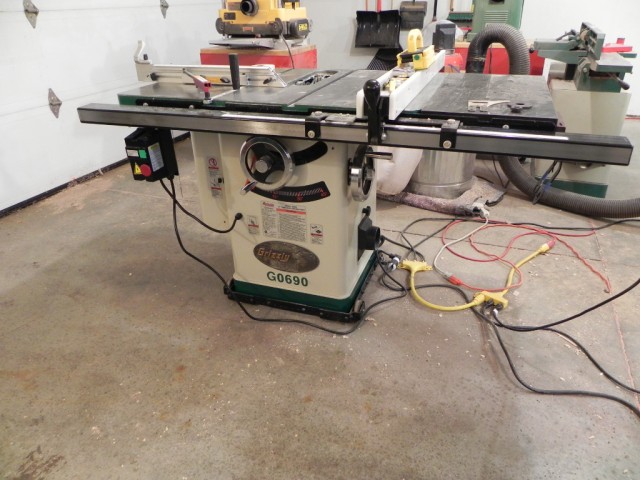 The first thing I did once got the saw set up and tuned was make a tool holder. It's nothing fancy, just a block of Peruvian Walnut that has a few screws & holes in it. As you can see below, it holds wrenches for changing the blades, as well as an Allen key & Phillips screwdriver for adjusting the inserts. I mounted in low enough on the right wing, so that it doesn't interfere with the fence, but yet was still easy to get at.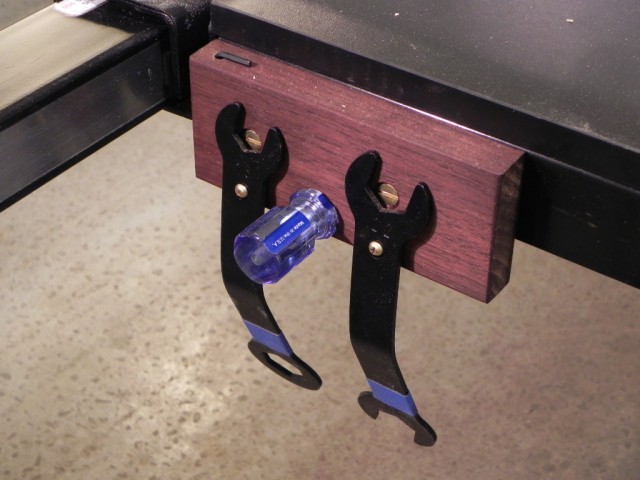 The second thing I made was a template for making inserts. I have to say I was less impressed with the design of the inserts & splitter. Nothing is out right wrong with them, they are just designed in a way that makes it harder to make inserts. The tow main issues are that when fully retracted the blade is just over 1/8″ below the top of the table, and when fully raised the splitter adjustment mechanism is also about 1/8″ below the table surface. Those two things combined with the size of the hole needed to adjust the splitter, makes making an insert more tedious than I think it should be. Below is the template and a zero clearance insert made from it.
The most important thing I've done since I got the saw was redesign the shop layout. since the saw has dust collection on its right side It now faces from side to side instead of front to back. additionally I re-positioned the joiner and oscillating spindle sander so that I have 360 degree access to my router table. Since I don't have a true bench yet (I need more space) It has become a substitute work bench. Hopefully this layout will work until i get a bigger shop.