It's been a while since I posted something so I thought I should share what I'm currently working on. Besides, it's to cold in the garage to work even with the propane heater running full blast. I'm Making 2 utility benches for my workshop. I want them to last "forever", so I have over engineered everything. My design requirements where:
They must be open underneath for role away tool storage.
They must be easy to disassemble if/when I move.
They must be able to support a high static load, in case I want to mount machine tools to them. I chose 1000 pounds as the target load.
It took me awhile to finalize the design, but what I came up with should be easy to build and not cost to much. The overall dimensions are W 72", D 30", H 40"– 44" (adjustable).  I plan to make the top 4″ thick out of laminated hard maple. I might make it thinner depending on how much maple costs per board foot when I go to purchase it. The legs & horizontal cross bracings are 2.5" x .12" square tubing, & the rear diagonal bracing is 1-1/2" x 3/16" flat bar bolted to the legs.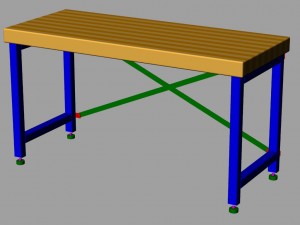 I'll post some more pics in a day or two.