Eventually I plan to build a workbench with a hard maple top. I only have a 13″ planer, so I thought I would have to wait till i got a bigger planer, or pay someone else to plane the top. One night while surfing SawmillCreek, I stumbled across a post that referenced a simple shop made tool called a router sled that wold let me flatten a bench top or any other large wood surface with tools I already have. Since I have never used a router sled before, I decided to make a small one and use it to make some tops for my role-away tool chests.
The base is made out of 3/4″ MDF. The bottom is a single layer and the sides are two layers screwed together, & to the base with drywall screws. The slides are dual purpose, they insure the base is flat and they provide an elevated surface for the bridge to rest on.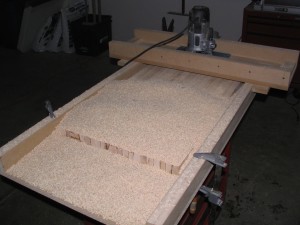 The bridge is constructed the same was as the base, except is has a slot in the center for the router bit to pass through. Using the sled is very simple, just set the router to the desired depth and push it across the bridge.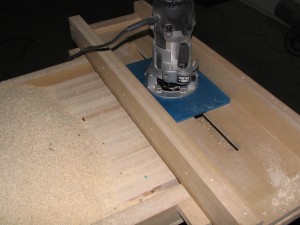 I Finished this top with BLO and spar Urethane.